Cumberland County, Pennsylvania Horse Boarding Stables & Livery Yards Directory
Page 1: Results 1-6 out of 6
► Submit Your Website To This Page
Safe Haven Stables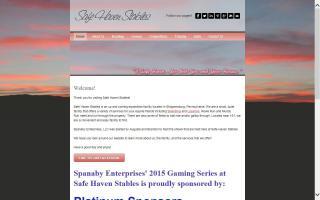 Visit Safe Haven Stables' Facebook Page
Shippensburg, PA 17257
(717) 802-6918
safehavenstables92@yahoo.com
We are a small equestrian facility located just outside of Shippensburg, PA. We offer self-care and full-care boarding, in addition to lessons for both English and Western styles. Please visit our website for more information!
safehavenstables.weebly.com/
Triple Creek Farm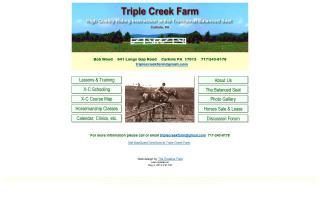 941 Longs Gap Road
Carlisle, PA 17013
(717) 243-8178
triplecreekfarm@gmail.com
High quality riding instruction is the tradition at Triple Creek Farm. We offer one of the area's most comprehensive experiences in riding instruction for equestrian sport. Our curriculum is dressage based, in keeping with the traditional military/balanced seat used in polo, fox hunting, eventing, and other equestrian sports. At Triple Creek Farm, riding is a sport.
Cross country jumping training on our cross country course is available to riders who wish to school their horses on our cross country course - by appointment only. Instruction and horse training for your horse in cross country jumping and fox hunting are also offered.
Regular clinics are available, presented by Bob Wood and visiting professionals in a range of disciplines. Please check our website for current offerings.
We have horses available for sale and lease. We offer boarding for horses in training and for student's horses.
www.triplecreekfarmpa.com/
Virtue Stables


Visit Virtue Stables' Facebook Page
3668 Enola Road
Newville, PA 17241
(717) 386-0342
virtuestables@embarqmail.com
We are a full service training center specializing in eventing, jumpers, dressage, and the re-schooling of Thoroughbreds. Our training program is designed with each horse and his/her personalities as well as strengths and weakness in mind. We offer private and small group sized lessons with our experienced instructor. It matters to us that you as our client meet you goals in horseback riding. Be it to reach a point where you can trot over an 18" course or soar over 4' and qualify for championships, we are here to get you there.
www.virtuestables.com/
Maple Hill Stables
Newville, PA 17241
(717) 776-7839
(717) 580-0562
maplehillstables@pa.net
Boarding, lessons, and blanket laundry & repair. Private family owned and operated horse facility north of Newville offers horse boarding: 12 x 12 matted stall in new barn (built 2005), 4+ acres of pasture, and heated tack room.
Look in Cumberland County, Pennsylvania for:
Find Boarding Stables / Livery Yards in: