Montana Dressage Stables Directory
Page 1: Results 1-2 out of 2
► Submit Your Website To This Page
Holiday Horse Care & Boarding Stables / Rosi Slater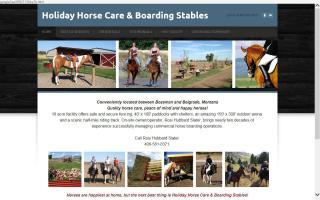 Visit Holiday Horse Care & Boarding Stables / Rosi Slater's Facebook Page
2287 Airport Road
Bozeman, MT 59718
(406) 581-8371
holidayhorsecare@gmail.com
HolidayHorseCare.com offers worry-free horse boarding and vacation horse care. Experienced on-site owner, quality hay, and regular cleaning at a safe, secure, and inviting location. Overnight stabling available. Call Rosi Slater at the number above.
www.holidayhorsecare.com/
J & S Sporthorses Inc.
Dillon, MT 59725
(406) 925-0569
mt_dressage@yahoo.com
Training barn for dressage, hunt seat, and natural horsemanship. Located off of Hwy 15 in southwest MT.
Experienced dressage and natural horsemanship instructor offering classical horsemanship to teach and understand balance and connection with your horse. Behavior training - teaching communication with the horse. Extensive knowledge of biomechanical and physical aspects to convey how to get your horse through the back. Offering overnight stabling for the traveler.