Ohio Horse Leasing Stables Directory
Page 1: Results 1-4 out of 4
► Submit Your Website To This Page
Cessna Stables, LLC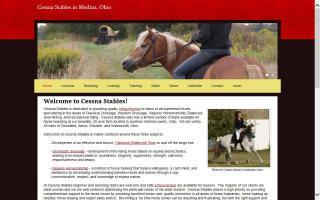 Visit Cessna Stables, LLC's Facebook Page
Medina, OH
(330) 461-2318
cessnastables@yahoo.com
Cessna Stables in Medina, OH, offers riding lessons, dressage lessons, horse boarding, and training for your horse. We specialize in improving the rider's seat, balance, and proper use of core muscles. Beginners are welcome; it's better to start off right than have to spend lots of time correcting bad habits! If you're having trouble feeling confident at a trot or canter, difficulty communicating with your horse, or difficulty getting him to listen to you - we can help! We specialize in adult riders - advanced, new, or returning - and those that ride for the fun of it! We can also improve your show ring success! Our lessons are based in Classical Dressage. We offer trailer-in lessons, lessons on school horses (call for availability), and occasionally travel lessons (trip charge applies). Full board includes daily turnout! Give us a call or check out our website!
www.cessnastables.com/
Hunters Hill Farm


Visit Hunters Hill Farm's Facebook Page
4923 W Streetsboro Rd
Richfield, OH 44286
(330) 571-5007
dressagerider7531@msn.com
Hunters Hill Farm is a quiet, full service facility that offers English riding lessons to children and adults. We specialize in dressage, eventing, and hunters. We have several quiet and capable school horses for our lessons. Some horses are also available for lease and half lease. Hunters Hill also offers full service boarding. We offer seven day a week stall cleaning, seven day a week turnout (weather permitting), blanketing, two feedings of high quality hay and grain per day, a brand new 60' X 150' indoor arena with a heated viewing room, and a hot and cold wash stall.
MRC Stables
10817 Sperry Road
Kirtland, OH 44094
(440) 478-8415
mrcstables@roadrunner.com
Lease a stall at MRC Stables.
**two stalls open as of 9-1-15**
You and your horse will experience:
- Safe, non competitive horsemnship
- Extremely reasonable rates
- 24 hours a day, 7 days a week detailed attention
- Quality, on time feeding: 4 times a day + pasture, 365 days a year
- Daily turn out: all weather paddock, arena turnout for in-clement
- Walk to beautiful trails: Lake Metroparks, Holden Arboretum, & EBTA
- Friendly, family, non-competitive atmosphere; club opportunities
- Two on-site qualified trainers / coaches with decades of experience
- Daily stall cleaning
- Indoor / outdoor arenas
- Consistency; owners / operators
- Stable Boarders: very little turnover, experience why horses and friends stay here
- Great horses available to lease & for lessons
- Summer and holiday camps, dates on website
www.mrcstables.weebly.com/
Windgate Farms LLC
2818 Bean Oller Road
Delaware, OH 43015
(740) 362-8762
(614) 582-9775
bhblanton@yahoo.com
American Saddlebred Horses: We do private lessons only. We attend most local horse shows that are affiliated with Saddlebreds. We lease, train, breed, and give private lessons. Please view our website and contact us if you have any questions.
www.windgatefarms.net/