Saint Tammany Parish, Louisiana Horse Stables and Horse Farms Directory
Page 1: Results 1-8 out of 8
► Submit Your Website To This Page
Madisonville Equestrian Center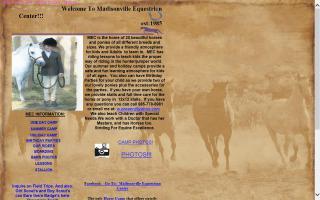 Visit Madisonville Equestrian Center's Facebook Page
135 Vista Street
Madisonville, LA 70447
(985) 778-6981
w.zoeann@yahoo.com
- Lessons
- Summer and Holiday Camps
- Boarding
- Birthday Parties
- Field Trips
- Horse Shows
www.madisonvilleequestriancenter.com/
New Heights Therapy Center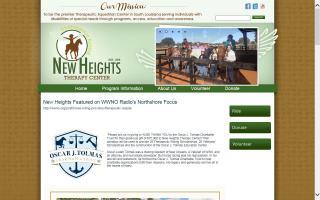 Visit New Heights Therapy Center's Facebook Page
16191 Highway 40
Folsom, LA 70437
(985) 796-3677
ntherapy@bellsouth.net
Beautiful equestrian center in Folsom, Louisiana, providing Therapeutic Riding, Hippotherapy, and camps since 1998. We are a nonprofit 501(c)(3) supported by more than 5000 volunteer service hours each year. Our Herd of Heroes includes amazing horses ready to work with riders of all ages, size, and ability.
www.newheightstherapy.org/
Danish Warmbloods
P.O. Box 957
Folsom, LA 70437
(985) 796-3650
salsa@oakhillranch.com
Breeder of Danish Warmblood dressage horses. We are the home of the Elite Danish Warmblood stallion, Rambo. We offer dressage training, breeding services, and horses for sale.
www.oakhillranch.com/
Billabong, The
Folsom, LA 70437
(985) 796-1271
(504) 451-0688
sunny@labillabong.com
Horse boarding, riding lessons, pasture, and stall available. Wonderful turnout. Convenient to Covington and Mandeville. Pristine rural setting. All ages and all disciplines.
Cals Farms
Folsom, LA 70437
(985) 222-6944
galliano@mcn.org
Located on an old polo field in the Folsom area across from the Gala Horse Show grounds of Serenity and Amen Corner Farms, this beautiful facility sits on 20 fenced and cross fenced acres. We offer horse boarding and horse and rider training. The property has an insulated and heated 10 stall barn with high volume fans over each rubber matted stall. Other amenities include an air conditioned tack room with an office and full bathroom and an interior wash rack with hot water.
There is a very large training arena to meet your training needs. The resident trainer offers horse and rider training in a variety of disciplines.
Full board starts at $400 per month (as of Nov 2009) and includes twice daily feed, hay, stall cleaning, and turnout. Call Cal at the number above or visit our website.
Equitana Farms Boarding and Riding Stables
Lacombe, LA 70445
(985) 882-3733
inquiry@equitanastables.com
We provide quality horse boarding with pasture turn-out. English and western riding lessons available. Please visit our web site for more details.
Equitana Farms Stables
Lacombe, LA 70445
(985) 882-3733
(985) 960-0288
equitana_farms@yahoo.com
Quality shavings in bulk for pick-up or delivery. Call office for pricing and delivery information.
Magnolia Forest Stables
Pearl River, LA 70471
(985) 201-1280
(985) 778-7566
MagnoliaForestStables@gmail.com
Stables located in the Pearl River / Slidell, LA, area. Two arenas, turnouts, and pasture. Full boarders have private paddocks while they last.
Look in St Tammany Parish, Louisiana for:
Find Stables and Horse Farms in: