Onondaga County, New York Horse Stables and Horse Farms Directory
Page 1: Results 1-10 out of 13
► Submit Your Website To This Page
Bednarek Quarter Horses
Route 80 Quarry Ridge Stables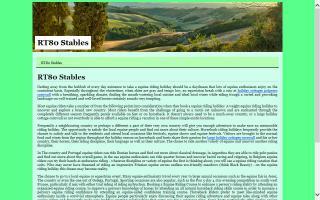 WHA Stables
5067 S Onondaga Rd
Nedrow, NY 13120
(315) 450-5016
info@whastables.com
Full-care and self-care board. Located one mile south of Syracuse, NY, Windy Hill Acres has been providing quality, clean, and affordable self-care facilities with a personalized touch to our boarders and their owners for over 5 years. We have over 18 years experience in the handling and care of horses, so we truly know our clientele. And with the owner living on site, there is never a need for worry.
Windy Hill Acres is a self-care and full-care equine boarding facility. We offer onsite property management, regular and premium boarding stalls, and a private barn option complete with three stalls and a separate tack area.
Located on over 28 acres, there is plenty of room for your equestrian loved one to feel at home. The property includes two barns, a 60x60 round pen, four pastures, a turnout area, and ample room for trailers.
www.whastables.com/
Affinity Farm
Denise Vespa Stables
Syracuse, NY
(315) 492-9900
Training & sales of American Saddlebreds. Denise Vespa Stables is a full service boarding and training stable located in upstate NY. We specialize in the American Saddlebred, Morgan, National Show Horse and Hackney Pony breeds. Please visit our website for more information.
www.denisevespastables.com/
From the Ground Up Therapeutic Horsemanship, Inc.
Look in Onondaga County, New York for:
Find Stables and Horse Farms in: