Washington County, New York Horse Stables and Horse Farms Directory
Page 1: Results 1-5 out of 5
► Submit Your Website To This Page
Pine Meadow Farm / Aikane Morgans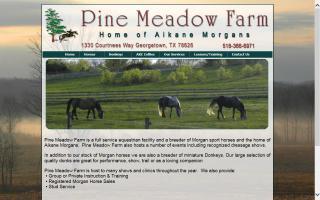 Stirling Brook Farms, Inc.
Sandy Hill Quarter Horses
232 Eldridge Lane
Fort Ann, NY 12827
(518) 632-9227
Family farm that focuses on breeding, training, and sales of performance Quarter Horses in Upstate New York.
www.sandyhillquarterhorses.com/
Whipstick Farm
Burchland Therapeutic Riding LLC
Granville, NY 12832
(518) 632-5798
(518) 642-2161
lp_swan@yahoo.com
Welcome to Washington County's first PATH Certified Therapeutic Riding Program!
We are here to enrich, educate, and expand the lives of individuals with special needs through equine assisted activities.
• Riding instruction will begin in our indoor arena starting January 2012.
• Program curriculum includes both mounted and unmounted horsemanship sessions.
• Small group or private instruction available.
Please contact Lisa Swanson or Connie Liebig at 518-642-2161 or 518-632-5798 for information and to reserve your space!
People, like horses, come in many colors!
Look in Washington County, New York for:
Find Stables and Horse Farms in: