Ontario Horse Retirement Farms Directory
Page 1: Results 1-8 out of 8
► Submit Your Website To This Page
Bronte Creek Equestrian Sport Ltd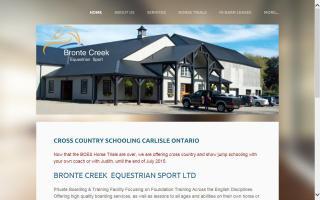 Visit Bronte Creek Equestrian Sport Ltd's Facebook Page
1694 Centre Road
Carlisle ON L8N 227
(905) 659-8819
info@brontecreekfarm.com
Private boarding and training facility focusing on foundation training across the English disciplines. Committed to the provision of high quality horse training & instruction in all aspects of equitation with qualified (Level 2 & BHSII), experienced coaches & trainers. Also providing premier boarding services with quality horse care to suit individual requirements.
Indoor arena (20x60) with viewing gallery, 30x60m outdoor arena, selection of show jumps, 12'x12' box stall, individual tack lockers, shower facilities, post & rail paddocks, and 24 hour on-site supervision.
www.brontecreekfarm.com/
Destiny Equestrian
7978 14th Avenue
Markham ON
(416) 566-3741
destinyequestrian.blogspot.com
Our private facility offers a quiet, friendly & relaxed atmosphere for both horse & rider.
Enjoy the simplicity of country life only minutes from the city!
- Horses boarded
- Horses bought & sold
- Part-boarding
- Leasing
- Pleasure riding
- Lessons
- Adult/child specialty camps
- Clinics & instructor prep courses
- Beautiful large paddocks with shelters
- Heated water & free choice hay & salt/mineral blocks
- Large outdoor riding rings (1 with lights)
- 1/3 mile training track
- Mini cross country course (coming soon)
- Lots of hacking
- Tack room with lockers
- Individual packages are available
As of Jan 2010:
- Pasture board costs start at $225/month
- Stalls are available
Monthly, quarterly & yearly pleasure riding memberships.
Lay ups, retired & companion horses are welcome. =)
Trailering to local horse shows & regional forest trails.
Acupuncture
Exclusively Horses
RR 4
Kenilworth ON NOG 2E0
(519) 848-2899
xhorses@sympatico.ca
Equine retirement care. As your horse ages, he deserves the best care possible. Exclusively Horses provides just that, specialized care packages contoured to suit his needs.
www.exclusivelyhorses.com/
Fieldstone Farm
Rockwood ON
fieldstone.farm@hotmail.com
Comprehensive equine retirement care.
Our goal is to provide complete long-term care for retired horses in a natural, stress-free environment. We have tailored our program specifically to support senior horses during their golden years. Farrier, annual dental, deworming, blanketing, individual feed programs, and administration of meds & supplements are included in our program. Our 80 acre farm is located in Rockwood (close to Fergus and Guelph), and we live on the premises. There are no lesson, training, or breeding programs on our farm. Horses live out 24/7 with access to shelter, grazing, and/or free choice hay, salt, minerals, and water. We may accept only well-mannered geldings. Several openings will be available this spring (2011). Please contact us for more information.
Shadowfox Stables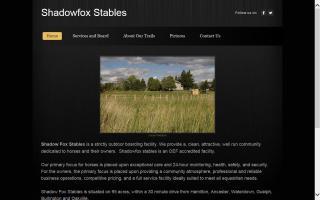 1108 Concession 5 West
Flamborough ON
(416) 898-1563
shadowfoxstables@gmail.com
Shadowfox Stables is a strictly outdoor board facility situated on 95 acres in close proximity to Cambridge, Waterdown, Hamilton, Oakville, and Milton.
We offer three large grass paddocks with small herds (max 1 horse per acre in each paddock. One 5 acre, one 4 acre, and one 3 acre paddock). Water available 24/7 heated in winter. Quality grass hay when grass isn't available. Large 10x30 run-in sheds and all oak board fencing / cedar posts (sheds and fencing new in 2011).
Shadowfox Stables has 40 acres of wooded trails plus our 20 acre hay field for hours of trail riding enjoyment.
We grow all our own hay so there will never be a shortage in hay available to your horse.
www.shadowfoxstables.ca/
Tyceffyl Boarding
Harley ON N0E 1E0
(519) 424-3918
tyceffyl@yahoo.ca
Pasture and stall board at a small, quiet, non-competitive barn near Burford and convenient to Woodstock and Brantford.
Small compatible groups. Catering to weanlings, broodmares, youngstock, retirees, lay-ups, and ponies.
Stalls are 10 x 11. Good wide aisle in an airy barn. Plenty of tie-up space for pasture boarders. Tackroom. Washroom. Children welcome.
Round pen,riding ring, trails a short distance away, and penning evenings locally. Trailer parking available.
No frills, but first class horse care by an experienced barn owner. Visiting instructors welcome. We have our own excellent vet and farrier, but there are no restrictions on using your own.
Zulu Estates
Stouffville ON L4A 7X5
(416) 580-5908
zulu@zing-net.ca
Our 50 acre farm, just minutes north of Toronto, offers excellent care in a quiet environment. This is an excellent place to spend quality time with your equine friend.
Our amenities include:
- Indoor or outdoor board
- Large stalls
- All day turn-outs
- 2X/Day feeding
- Grass (unlimited winter hay) paddocks or controlled hay paddocks
- Hay produced on premises
- Owner resides on premises
- Outdoor riding ring
- Groomed trails for hacking
Laurenwood Stables
Loretto ON L0G 1L0
(905) 936-4592
chute@sympatico.ca
Laurenwood Stables offers premium retirement board for your well-loved equines. We are located in the heart of the Oak Ridges Moraine, an area of stunning natural beauty.
We are also pleased to offer premium indoor and outdoor board for younger horses on our organic family farm.
Amenities include:
- 12x13, 12x12, and 9x10 foot stalls
- Dutch doors and windows in every stall
- Rubber mats over crushed limestone base
- Heated barn
- Automatic waterers
- All day turnout in small groups
- Huge grass paddocks
- Safe fencing
- Blanketing/booting/fly masks
- Loafing sheds and mature trees
- Unlimited hay
- 2 grain feeds per day
- Outdoor riding ring
- Miles of trails for hacking
Please don't hesitate to contact us with questions or to arrange a visit. We look forward to hearing from you!