Placer County, California Horseback Riding Lesson Stables Directory
Page 1: Results 1-8 out of 8
► Submit Your Website To This Page
Allen's Performance Horses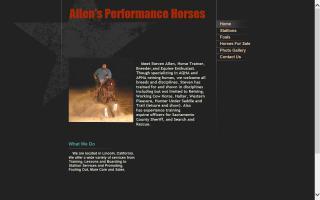 Folly Farm Sport Horses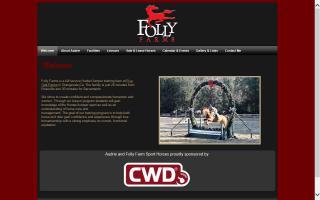 Visit Folly Farm Sport Horses' Facebook Page
Hunterville Stables
Penryn, CA 95663
(530) 613-3216
audrie@follyfarmsporthorses.com
Audrie has been riding and showing horses for over 15 years and is a Certified Equine Sports Massage Therapist. She started riding with well known hunter/jumper trainer, Patti Ball, in 2002. Audrie has many years of experience in starting young horses and rehabilitating and retraining Thoroughbreds off the track. She has worked with horses as young as weanlings. Audrie believes in building a strong and confident foundation in both horses and riders.
If you want to get away from the hustle and bustle, come join us. You and your horse will receive one on one attention customized to fit your needs.
www.follyfarmsporthorses.com/
Pony Party Passions
PO Box 3431
Newcastle, CA 95858
(916) 239-2565
ponypassions@yahoo.com
Lead-line pony parties. Perfect for family get-togethers or other outdoor venues.
Miniature horse ring bearer. A unique service for your outdoor wedding. Our Miniature horse can be led by a small child.
Riding/horsemanship lessons.
Personalized trail rides for small groups. Enjoy the trails around the Sacramento area. Experience the fun for yourself.
Grooming services for your horse. We can keep your horse looking his best.
Pet and ranch sitting.
We are safety oriented and provide helmets for our riders. Please give us a call or email for more information or pricing.
Stonebridge Ranch
13380 Lake Valley Dr
Auburn, CA 95602
(530) 401-6900
stonebridge.ca@gmail.com
Pasture boarding for the everyday and competition horse. Beautiful 16 acre horse property in Auburn, CA. Just a mile from the Lone Star Rd and Highway 49 intersection. Lots of places to ride from the barn or if you trailer out. Includes rotation of dry and irrigated fields, fresh water, and winter hay! Contact for price and availability.
www.stonebridge-ca.com/
Tammy McDonald Training at Willow Lake Ranch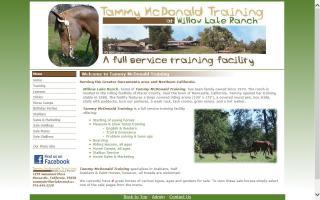 Visit Tammy McDonald Training at Willow Lake Ranch's Facebook Page
1255 Monument Place
Newcastle, CA 95658
(916) 645-2228
tammy@willowlakeranch.us
Training facility for horses, specializing in showmanship for Youth, Adult Amateurs. Year round riding lessons, summer horse camps. Horses for sale and stallion barn. Located in the rolling foothills of S. Placer County in Newcastle, CA.
www.tammymcdonaldtraining.com/
Twin Palms Combined Training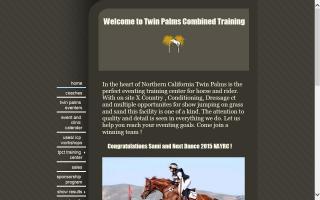 Loomis, CA 95650
(916) 532-2309
christwinpalms@live.com
We are a dressage and 3-day eventing facility in Northern CA. Offering a full service training program for the horse and rider, our focus is educating the rider in all areas of dressage and eventing.
www.twinpalmscombinedtraining.com/
Black Bay Equestrian LLC
6802 Laird Road
Loomis, CA 95650
(916) 798-3907
chris@blackbayequestrian.com
Specializing in Jumpers, Black Bay Equestrian was created by Jumper and Equitation trainer Chris DeVere who combines over 15 years of equestrian and show experience and a lifelong passion for horses with the goal of assisting riders of all levels to achieve their goals with a foundation of good horsemanship.
Located at a full service equestrian facility, Black Bay Equestrian offers a variety of services, from beginner horse riding lessons, to full Show Jumper and Equitation training programs for those looking to compete in local SAHJA schooling shows, B and A rated shows. We also offer professional training and work with young sport horses. All levels of horses and riders, including children 6 and up, are welcome in our programs.
We are located on 10 acres in Loomis with a large 160x180 all weather jumping arena, newly built 10 stall barn, hot/cold wash racks, 12x24 tack room, large turnouts, and many other amenities.
www.blackbayequestrian.com/
Stage Stop Ranch
Auburn, CA 95603
(530) 906-7746
wyley@sbcglobal.net
Facility that specializes in training programs for families and horses of all breeds. The facility also provides boarding services, driving, carriage services, and a big indoor arena among other services.