Connecticut Saddleseat Stables Directory
Page 1: Results 1-3 out of 3
► Submit Your Website To This Page
Trowbridge's Ltd.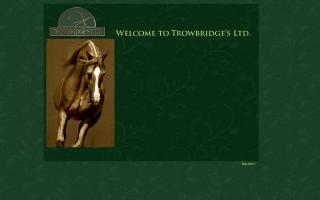 236 Henry Sanford Road
Bridgewater, CT 06752
(860) 354-8926
(860) 488-7101 (cell)
mary@trowbridgesltd.com
A full service Arabian training, breeding, lessons, and sales facility located in Bridgewater, CT, one of Litchfield County's most beautiful areas. Trowbridge's is known nation-wide for unparalleled professionalism and consummate horsemanship and are equally adept at introducing new people to the world of the horse or taking seasoned equestrians to national recognition in their respective venues. The Arabian horse is one of the most versatile, beautiful, and people oriented horses in the world, and the farm is one of the country's most noted breeding and training facilities. Trowbridge's also has a public lesson program that caters to beginners through advanced, and boarding, retirement, and rehabilitation services for equines of all breeds. There are always horses available for sale of all ages, types, and for a variety of prices and uses, from trail horses to children's mounts to national caliber performance and breeding horses. Visitors are always welcome w/ a call or e-mail.
www.trowbridgesltd.com/
Competitive Rider
236 Henry Sanford Rd
Bridgewater, CT 06752
(860) 354-8926
(978) 505-0603
noblespirit21@yahoo.com
Riding instruction and clinics. Fun, creative, and comprehensive instruction for all seats located on the border of Litchfield and Fairfield County, Connecticut. All levels of riders welcome, from timid beginners to national champion riders.
www.competitiverider.com/
Dream Meadow Farm
Higganum, CT 06441
(860) 345-8672
(203) 627-0968
dreammeadowfarmct@sbcglobal.net
We are a fun family oriented farm offering the following: boarding, lessons, training, sales, showing, and trucking. We love to have fun with horses! Come check us out!

Find Saddleseat Stables in: