Arkansas Therapeutic Riding Stables Directory
Page 1: Results 1-7 out of 7
► Submit Your Website To This Page
Anderson's Promise Land, Inc.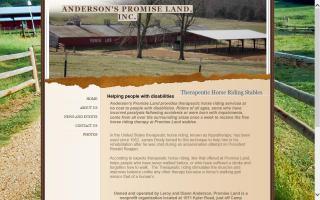 Visit Anderson's Promise Land, Inc.'s Facebook Page
1071 Kyler Road
Batesville, AR 72501
(870) 252-3109
andersonpromiseland@suddenlink.net
Anderson's Promise Land, Inc. is a non-profit organization that provides therapeutic horse riding for people with disabilities at no cost. Riders must provide a doctor's referral and, for safety purposes, weigh less than 180 pounds. Promise Land is open the first of April and has two riding session on Mondays and Thursdays.
www.andersonspromiseland.org/
Daystar Arabians
26110 Hwy 45
P.O. Box 349
Hackett, AR 72937
(479) 639-2401
horsewize@aol.com
Daystar offers horses for sale, breeding, training, trail rides, endurance, youth summer camp, riding instruction and boarding. Emphasis on safety and having fun with horses.
www.daystararabians.com/
Hearts & Hooves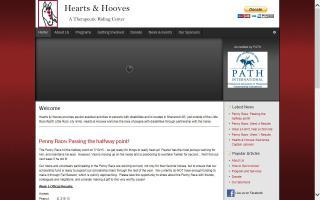 Visit Hearts & Hooves' Facebook Page
2308 Kellogg Acres Road
Sherwood, AR 72120
(501) 834-8509
A therapeutic riding center and non-profit organization.
www.heartsandhooves.com/
Ravenswood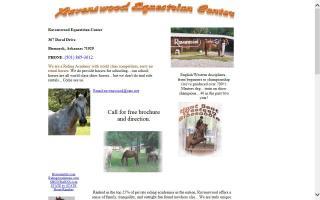 367 Doral Dr
Bismarck, AR 71929
(501) 865-3612
ravenswood@catc.net
Ravenswood is a full service private riding academy. Our show record put us in the top 25% of schools in the nation. 40+ years' solid teaching exp. over 750 show champions in regional to national levels. Masters degree in human and animal psychology. Specialize in working with folks who have had traumatic experiences with horses. Hunt seat fences or flat work, western (TX and Calif), and a therapeutic program. (I helped the AR Appaloosa Club develop the nation's first breed show equestrian competition for challenged riders.) I believe in horsemanship with intent... understanding what you are doing and why you are doing it. You will get a grounding in the language and psychology of the horse, selection, equipment, grooming, vet care, nutrition, and whatever else presents itself as a good learning opportunity. I am a coach you can talk to. Can't guarantee I'll have all the answers, but I'll probably know where to go look them up. Ride for fun, stress relief, and fitness. Polish your skills, get some new skills, and make friends. Our barn is like an extended family; all ages and all levels welcome.
www.horserentals.com/ravenwoodequestriancenter.html
Sunrise Therapeutic Sevices, Inc.
130 Hwy 287
Greenbrier, AR 72035
(501) 679-6695
(501) 581-6481
sunriseriders@windstream.net
Sunrise Riders provides opportunities for people with varying ability levels to challenge themselves physically and emotionally and to set goals to improve their quality of life via horses and specially trained and certified riding instructors and volunteers that make safe interactions possible. It is through this that we hope to change and enrich lives for individuals with special needs.
Equine Assisted Activities involves horse-related activities uniquely designed for people with cognitive, physical, emotional and social disabilities. Students of all ages learn horseback riding skills and basic horse care while receiving many benefits such as: improved balance, mobility, muscle tone, coordination, posture, enhanced independence, increased concentration, and self-esteem. Horseback riding has proven to be a highly motivational and enriching therapeutic and educational modality for students to set aside their crutches, wheelchairs and disabilities as they settle into the saddle.