Hillsborough County, Florida Therapeutic Riding Stables Directory
Page 1: Results 1-3 out of 3
► Submit Your Website To This Page
Quantum Leap Farm, Inc.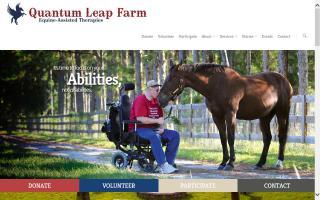 Visit Quantum Leap Farm, Inc.'s Facebook Page
10401 Woodstock Road
Odessa, FL 33556
(813) 920-9250
quantumleapfarm@verizon.net
Quantum Leap Farm is a therapeutic equine center with a variety of programs for people who are interested in personal growth, self discovery, and life enrichment - physically, emotionally, and socially. Programs include therapeutic horseback riding, hippotherapy, At E.A.S.E. (Equine Assisted Self Exploration), carriage driving, and kinesthetic therapy. Quantum Leap Farm's therapeutic programs are available for participants from age 2 to 92. We also offer opportunities for volunteers, 16 years and older.
Quantum Leap Farm features a state-of-the-art riding arena, complete with lights, fans, a ramp, and a chair lift for safe mounting. We are located in northwest Hillsborough County and border 1700 acres of public riding trails. We invite horse boarding applicants who are interested in having their horse participate in our therapeutic programs.
Individual contributors are our largest funding source. As a non-profit corporation, contributions are tax deductible.
www.quantumleapfarm.org/
Bakas Equestrian Center
Look in Hillsborough County, Florida for:
Find Therapeutic Riding Stables in: