McHenry County, Illinois Therapeutic Riding Stables Directory
Page 1: Results 1-1 out of 1
► Submit Your Website To This Page
BraveHearts Therapeutic Riding & Educational Center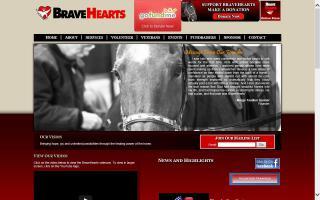 7319 Maxon Road
Harvard, IL 60033
(708) 485-5629
(630) 834-1827
mtautkus@wmconnect.com
BraveHearts Therapeutic Riding & Educational Center serves students with emotional, mental, and physical challenges.
Recreational Therapy: Students of any age are invited to participate in: horticulture, music, leisure activity skills, fishing, and various other activities under the supervision of a Certified Therapeutic Recreation Specialist.
Therapeutic Riding Program: Students can begin our therapeutic riding program at five years of age. Depending on skill level, students will learn skills for independent horseback riding as well as enjoy fun activities while on horseback. Benefits include: improved strength and balance, increased self esteem, and improved cognition.
Therapeutic Carriage Driving Program: Anyone interested in an alternative riding may be interested in Therapeutic Driving. The minimum requirements are over 5 feet tall or the ability to sit upright unassisted. Students will learn how to drive a single horse in a 2-wheel and 4-wheel vehicle.
www.braveheartsriding.org/
Look in McHenry County, Illinois for:
Find Therapeutic Riding Stables in: