Collin County, Texas Horse Training Stables Directory
Page 1: Results 1-6 out of 6
► Submit Your Website To This Page
BayWood Equestrian Center LLC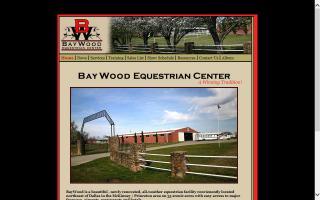 2302 County Road 494
Princeton, TX 75407
(972) 333-3402
(469) 693-8207
info@baywoodequestrian.com
Arabian / Half-Arabian training & show barn. Provides training, lessons, and full care board. Facility has an enclosed main arena and large outdoor sand arena. Located north of Princeton, TX, on 35 acres.
www.baywoodequestrian.com/
Boarding and Training in McKinney, TX
McKinney, TX 75071
(972) 379-8366
info@heavenlyfarms1.com
Full care H/J horse boarding - training to Grand Prix level.
- Complete training of Hunters and Jumpers to Grand Prix level
- Young horses started correctly
- Horses trained with a foundation in Dressage
- Behavior problems corrected
- Horses prepared for show or sale
- Lessons ages 3yrs - Adult
- Beginners thru Advanced welcome
- School horses available
- Horses available for lease
- Youth summer and weekend day camps
- Full care boarding
- Barn stalls and pasture
- Arena with lights
- Jumping field
- Hot and cold water for bathing horses
- Bathroom with flushable toilet for boarders.
Contact us @ 972-379-8366
Double B Equestrian Center


Visit Double B Equestrian Center's Facebook Page
2300 McMillen Road
Wylie, TX 75098
(214) 882-1213
doublebequest@aol.com
Double B Equestrian Center is a privately owned horse boarding stable and training facility located in Wylie, Texas.
Featuring a large covered arena with 60 attached stalls, you can ride in the shade when it's hot and out of the rain when it's wet.
Double B offers two large outdoor arenas, an outdoor round pen, and a permanent obstacle course and jumps in the pasture. We also have trails through the woods on the property. We are minutes from the 26 mile equestrian trail along Lake Lavon.
We have roomy 12x12 stalls with large windows. 19 Stalls have large attached paddocks. Pasture and private turnouts are available.
We also offer riding lessons in many disciplines from dressage to western pleasure and trail.
Contact owner Rick Brewer at 214-882-1213 for information.
www.doublebequest.com/
Grand Oak Farm
Celina, TX 75069
(517) 861-0237
(734) 231-1847
amyl.moore@hotmail.com
Grand Oak Farm specializes in working with horses at all levels. For young or green horses, our goal is to establish a solid foundation on the ground AND on the horse. For experienced horses, we provide reconditioning and fine tuning. How a horse is started or trained will determines its attitude and success down the road. "Even the greenest horse has something to teach the wisest rider."
Grand Oak Farm offers quality lesson programs for all ages and levels of experience. We listen to your needs and desires, then customize a package that will work toward your goals. Helping clients develop a good relationship with their mounts on the ground and in the saddle.
Hoofbeats at Waterstone
McKinney, TX 75071
(972) 837-8056
pkownack@aol.com
Beautiful indoor arena / fabulous facility in McKinney, TX. English and Western lesson instructors and horse trainers. Customized horse care, Purina feeds, and high quality hay. Come see why our boarders love us!
Shelby's Equine TLC
Lucas, TX 75002
(214) 250-3337
info@equinefriend.net
Shelby's Equine TLC is based in Lucas, Texas, and has been serving horses and their owners with lessons, training, grooming, and temporary care since 2007.
Located at C&L Stables, there are boarding facilities with roomy stalls and tack closets, a small arena, a round pen, a wash rack, and lots of pasture space for riding.
Self-care and full-care are provided.
Look in Collin County, Texas for:
Find Horse Training Stables in: