Massachusetts Equine Dentists Directory
Page 1: Results 1-3 out of 3
► Submit Your Website To This Page
Good Equine Dental Services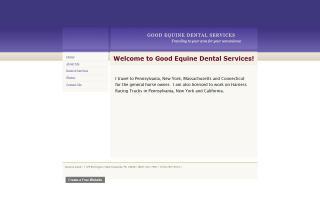 1129 Burlington Tpke
Towanda, PA 18848
(607) 425-7097
(570) 265-8374
bgoodeqdt@yahoo.com
I provide equine dental services to horses in PA, NY, MA, and CT. I use power tools and hand tools.
www.freewebs.com/goodequinedentalservices/
Greene Acres Equestrian Center
Belchertown, MA 01007
(413) 246-8190
amanda.greeneacres@verizon.net
A family owned and operated stable located upon 13 acres of green pasture in Belchertown, Massachusetts. Lessons include a variety of disciplines including western pleasure, English. Safety is our number one concern. We also offer boarding, which includes daily turnout, acres of pasture, and miles of trails, which are easily accessible from the property. A 70x120 indoor riding ring under construction. Consider making Greene Acres Equestrian Center home for your horse.
Equine Dentistry:
Floating means to smooth or contour your horse's teeth with a file (called a "float"). Unlike your own teeth, your horse's teeth keep growing. At times, your horse's teeth may develop sharp edges, making it difficult for her to chew food, hold a bit, or simply have pain and discomfort inside there mouth.
It is my job to balance and correct abnormalities in your horse teeth to make them as comfortable and as functional as possible.
Integrity Equestrian Center - IEC
Jefferson, MA 01522
(508) 332-9061
(508) 829-5265
Boarding, training, leasing, and dentistry.
Look in Massachusetts for:

Find Equine Dentists in: