United Kingdom Equine Services Directory
Page 1: Results 1-1 out of 1
► Submit Your Website To This Page
Trinity Consultants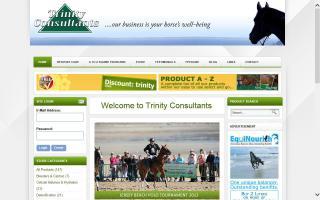 Barnham Court Farm
Church Lane
PO22 0BP
ENGLAND
01534 862256
01243 551766
info@trinity-consultants.com
Equine nutrition. Performance, remedial & bespoke nutritional advice, products & support. Leaders in bespoke nutrition, research & development since 1996. Offering bespoke and friendly advice, nutritional supplements made to order with same day dispatch. Always available for phone/email consultation or via our website. Trinity Consultants remain the last port of call for many horse owners, therapists & trainers when all other avenues have been exhausted.
Problems we help with include: laminitis, azotoria, head-shaking, bad behaviour, hyperactivity, poor peak performance, liver damage, poor condition, bleeding, skin complaints, mud fever, and many more.
Trinity Consultants; We're here when you need us.
www.trinity-consultants.com/