Equine Dental Supplies Directory
Page 2: Results 11-17 out of 17
► Submit Your Website To This Page
Sunjotra Equestrian Supplies.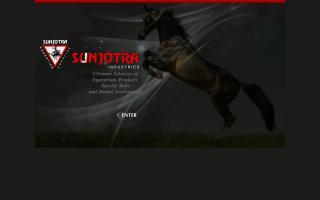 P.O. Box #2771
Zafar Wal Road
51310, Punjab 51310
INDIA
92523543061
info@sunjotraind.com
We are leading manufacturers & exporters of all sorts of quality saddlery and equestrian products. Please visit our website for superior quality products at reasonable prices and a vast range of:
- Saddle Pads, Girths, Reins, Etc.
- Farrier Tools (Nippers, Horse Shoes, Clincher, Nail Puller) & Farrier Aprons
- Riding Stirrups & Spurs
- Equine Dental Instruments (Forceps, Mouth Speculum & Gags, Dental Picks, & Dental Floats)
- Dog Leather Accessories (Harness & Leads)
- Bits (Weymouth & Classical Bits, Pony Bits, Dee Bits, Apple Mouth Bits, Etc.)
- Riding Gloves, Riding Shoes, Half Chaps
- Leather Cowboy Hats, Riding Jackets
We are approved as ISO-9001-2, and also are a CE Mark Certified Company.
www.sunjotraind.com/
Instrumentation Concept Inc
2936 Reward Ln
Dallas, TX 75220
(214) 850-9142
(214) 850-9143
info@instconcept.com
We sell all kinds of equine dental instruments, including forceps, speculums, scalars, elevators, floats & blades, and dental picks.
www.instconcept.com/
World Wide Equine, Inc.
P.O. Box 1040
Glenns Ferry, ID 83623
(208) 366-2550
wwequine@horsedentistry.com
World Wide Equine, Inc. a manufacturer of two to three hundred different equine dental instruments. These instruments are designed by Master Dentists and Master Instrument Makers to provide high quality dentistry for the horse with the least stress possible.
www.horsedentistry.com/
Faiz Industry
51310 Sialkot PU
PAKISTAN
00928106299
00923009877447
export@faiz-ind.biz
Faiz Industry is a leading manufacturer and exporter of equine dental instruments and veterinary instruments in Sialkot, Pakistan. Since 1990.
We can make any equine dental instrument or veterinary instrument according to your special design and instruction in high quality at a very competitive export price.
Thanks, with kind regards,
Muhammad Shabeer
Director
Mzee Enterprises
51310 Sialkot Punjab
PAKISTAN
+92-52-4570885
+92-3006165575
sajee90@gmail.com
We are pleased to introduce ourselves as manufacturers & exporters of saddles, bridles, reins, halters, chaps, girths, bits, riding gloves, horse bags, stirrups, spurs, grooming equipment, accessories, and Himalayan horse salt.
We are committed to manufacturing and exporting according to international production standards. Mzee Enterprises is dedicated to serving professionals by providing quality products to our valued customers worldwide. We will strive for increased customer satisfaction through quality, innovation, efficiency, reliability, competitive prices, and courteous service.
W.M. Corporation
51310 Sialkot Punjab
PAKISTAN
0092 334 8019085
0092 52 4563673
wmcpk12@hotmail.com
We are manufacturers and exporters of equine dental tools.
Zorgen Enterprises
51310 Sialkot Punjab
PAKISTAN
0092 301 6193155
0092 52 3570424
info.zorgen@gmail.com
Manufacturer and supplier of wide range horseshoe supplies and equine dental instruments and tools.