Caribbean Therapeutic Riding Stables Directory
Page 1: Results 1-2 out of 2
► Submit Your Website To This Page
Cowboy Town Stables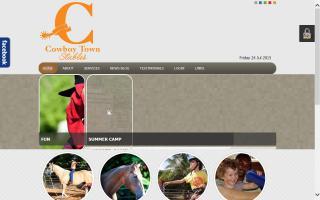 Visit Cowboy Town Stables' Facebook Page
Box 2222 SAV
160 Lottery Road
KY1-1506 Grand Cayman
CAYMAN ISLANDS
(345) 916-8571
shanna@cowboytownstables.com
Come to Cowboy Town Stables in Lower Valley, Grand Cayman, Cayman Islands and experience the power of horses to change lives. Together, we will team up with our horses and improve balance, coordination, communication, confidence, and self-esteem... all in a refreshing setting focused on safety, learning, and fun!
Equine Assisted Activities are available for children and adults with a variety of special needs; including social, behavioural, cognitive, and communication difficulties. Special needs services are provided by an experienced horseman and PATH International Certified Instructor with ABA training.
www.cowboytownstables.com/
Eden Ranch
(809) 304- 2431
edenranch@gmail.com
We are a small, privately owned horse ranch offering many packages for a relaxing stay in the beautiful Caribbean. From vacations to retreats, volunteering to voluntourism, working vacations, and student gap excursions.
Eden Ranch has personalized service, offering riding lessons, adventure trail rides, day camps, natural horsemanship clinics, and therapeutic riding programs. Training seminars that teach you how to properly handle and train foals, equipment maintenance, and general natural horsemanship techniques.
We will cater to your every need when it comes to taking time off and enjoying the serene countryside of the Dominican Republic with our horses.
Our ranch is located on top of a mountain with stunning views overlooking the city of Puerto Plata.
Comfortable lodging, home cooked meals, and WIFI are just the beginning to a wide variety of perks and benefits we have to offer.
Passport required, visa is $10USD (as of Sept 2010).
Come visit
Look in Caribbean for:
Find Therapeutic Riding Stables in: