Missouri Horse Directory
Page 5: Results 41-50 out of 244
► Submit Your Website To This Page
Cressant Hill Arabians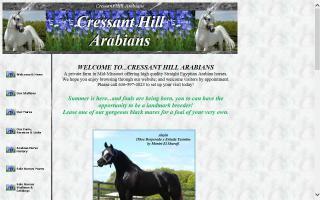 138 Ponderosa Dr
Truxton, MO 63381
(636) 597-4023
letta@cressanthill.com
Cressant Hill Arabians is a private 20 acre farm sitting among the rolling hills of central Missouri. We are conveniently located one hour west of the St. Louis International Airport off Interstate 70 or Hwy. 40/61 in the USA.
Our farm is a leading source for Straight Egyptian Arabian horses with bloodlines sought after across the world! We offer some of the finest horses for purchase and stand at stud one of the last living The Minstril sons offered to the public in the USA titled multiple Halter & Most Classic Head Grand Champion and Egyptian Event Top 3 Stallion. Our goals are to consistently produce the best Straight Egyptian Arabian horses of the Bedouin strain Kuhaylat Ajus Rodan; focusing on the rare tail female line of Bint Riyala. These horses are admired for their refined classic beauty and consistent qualities, making them capable of both halter & performance - plus, people loving dispositions. Contact us today to arrange a farm visit or view our website for s
www.cressanthill.com/
Cross Spur Quarter Horses


Visit Cross Spur Quarter Horses' Facebook Page
Humansville, MO 65674
(417) 754-2413
crosspur@centurytel.net
Blue Valentine, Hancock, Driftwood & Sunfrost bred working ranch horses. Lots of roans.
www.crossspur.com/
Dbl_D-A Saddle Repair / Restoration / Build
11135 Sunnyslope Dr
Kansas City, MO 64134
(816) 872-2523
danetengr57@yahoo.com
I am a certified custom western / pleasure saddle maker. I also can perform restorations and any level of repair short of the tree. I have repaired and customized many a saddle for customers. I am located in southern Jackson / northern Cass County. I also provide services for eastern Kansas.
DBL_D-A Saddlery Repair / Restoration / Build
11135 Sunnyslope Dr
Kansas City, MO 64134
(816) 872-2523
saddlethunder@yahoo.com
I am a small Certified custom build, repair & restoration shop for both Western and English saddle riders. I cater mostly to Western riders and the many disciplines in which they ride. I have began taking in English saddles for repair - no custom builds yet.
I will repair tack, including breeches for mule riders!
If you are looking for a well known, reputable, and centrally located shop around the Kansas City Metro area, please give me a call and let's see what we can do for your horse & you.
Dogs, Cats and Horses
3132 Moreau View Dr
Jefferson City, MO 65101
(573) 893-7031
info@dogscatsandhorses.com
Horse, dog, and cat nutrition and training resource.
Jennifer Meyer of Dogs, Cats and Horses believes in an all-natural approach to animal diets, supplements, and medications. It is her belief that a natural diet with a careful look at nutritional foods can result in happier animals and significantly reduce sickness and common pet ailments. Diet is the key to creating balanced animals.
dogscatsandhorses.com/
Double D Acres LLC
733 Silver Fox Lane
Labadie, MO 63055
(314) 210-8442
doubledacresfarrier@gmail.com
Providing farrier work in Franklin, Jefferson, St. Charles, St. Louis, Warren, and Washington counties in Missouri and some in Illinois. I am a licensed Thoroughbred Blacksmith by the Illinois Racing Board. I believe in continued education and attend as many clinics as possible.
www.doubledacres.com/
Double Eagle Ranch / HCG Horse Stables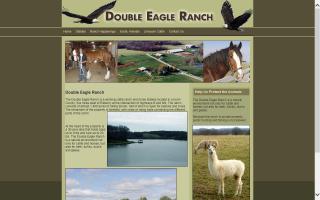 245 Highway NN
Elsberry, MO 63343
(573) 898-2222
Double Eagle Ranch is a working cattle ranch and horse stable located in Lincoln County, MO. We raise Limousin cattle, Clydesdale horses, and exotic animals.
www.doubleeagleranch.net/
Dusty Trails Saddles
Eagles Wings Ranch
Equine-Assisted Therapy, Inc.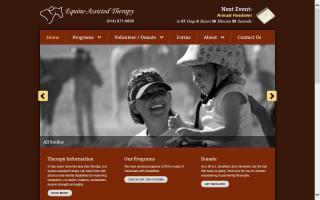 Visit Equine-Assisted Therapy, Inc.'s Facebook Page
Longview Farm Park
13525 Clayton Rd
Town & Country, MO 63141
(314) 221-3642
(314) 221-3641
ginni.hartke@equine-assistedtherapy.org
www.equine-assistedtherapy.org/